InspectorUSA provides affordable Commercial Property Inspections and Phase I Environmental Assessments to assist in the purchase or maintenance of commercial properties.
Commercial Building Inspections
A Commercial Property Inspection (CPI) (according to the 2019 International Standards of Practice for Inspecting Commercial Properties) relies on a walk-through survey, document review and interviews—all performed by a professional commercial property inspector— to determine the property's condition. Results of the CPI are reported in a Commercial Property Inspection Report.
The scope of a Commercial Property Inspection varies according to the type of construction, age, occupancy and desires of the client.. Inspections can range from a Limited Walk-Through Assessments to a Non-Technically Exhaustive General Inspection for "Red Flag" items that should be evaluated further by qualified experts to a Comprehensive Technical Evaluation of a building's technical components by experts.
Types of Buildings
Office/School/Industrial Buildings
Multiple Unit Apartment Buildings
Convenience Stores/Liquor Stores
Restaurants/Bars
Strip Malls
Warehouses
A General Commercial Property Inspection Includes:
Site characteristics (paving, landscaping and utilities)
Structural frame and building envelope
Roof surface
Mechanical and electrical systems
Plumbing systems
Heating systems
Air conditioning and ventilation systems
Vertical transportation
Safety and fire protection
Interior elements
Document review
Opinions of probable costs
Recommendations
The Comprehensive Technical Evaluation approach allows specialists or consultants to assist us in the commercial inspection by providing expertise in relevant areas. This may include structural engineers and specialists in the following areas:
Environment
HVAC (Heating, Ventilation and Air Conditioning)
Electrical
Fire protection
Elevator
Roofing
Paving
Wood-destroying organisms
Sample Commercial Property Inspection Reports
Sample Commercial Inspection Report
Sample Commercial Warehouse Report
Phase I Environmental Site Assessments
InspectorUSA has been completing Phase I Environmental Site Assessment (ESA) reports on properties for commercial real estate transactions, lender financing, owner re-financing, foreclosures, and other programs for more than 20 years. Our Phase I ESA's have been completed for many program requirements, including:
ASTM Standard Practice E1527- 5 & 13
All Appropriate Inquiry 40 CFR Part 312
SBA SOP 50 10 5 (C)
Specific Lender Requirements
and others…
Our Phase I Environmental Site Assessments are completed by a Certified Environmental Inspector (CEI) with more than 30 years' experience inspecting all types of properties. Our projects are very cost-effective, and we have the knowledge and experience to complete assessments quickly.  .
We specialize in fast completion, quality assessments, and competitive cost while meeting the requirements for the ASTM E1527-13 standards and the All Appropriate Inquiry Rule (AAI) 40 CFR Part 312 rule.
Frequently Asked Questions Regarding Phase I Environmental Assessments:
What is a Phase I Environmental Site Assessment (ESA)?
A Phase I ESA is an assessment of a parcel of commercial real estate to evaluate for visible evidence of contamination by hazardous substances or petroleum products. A typical Phase One Report will allow a buyer or lender to make an informed decision as to the potential environmental risk associated with the purchase of the property. American Society for Testing and Materials (ASTM) sets the standard for what constitutes an environmental risk or "recognized environmental condition" (REC). A REC is defined by the ASTM standard 1527 as: "the presence or likely presence of any hazardous substances or petroleum products in, on, or at a property: (1) due to any release to the environment; (2) under conditions indicative of a release to the environment; or (3) under conditions that pose a material threat of a future release to the environment."
What is the purpose of a Phase I ESA?
The purpose of a Phase I ESA is to gather sufficient information to develop an independent professional opinion about the environmental condition of a property and to identify actual or potential environmental contamination which may impact a property's value. Completion of a Phase One Report will also allow the user to satisfy one of the requirements to qualify for the landowner liability protection (innocent landowner defense) from CERCLA liability.
Why is a Phase I ESA needed?
Potential buyers will complete a Phase I Environmental report to assure they are not buying a property that has an unacceptable risk of environmental liability. Most lenders will require a Phase I Report to protect their interest in a commercial property.
What type of properties do not generally require a Phase I ESA
A Phase I ESA is generally completed for commercial properties. Residential properties generally will not need a Phase One Site Assessment, unless there are special conditions, such as an underground storage tank or a known spill on the property. Residential properties may also need a Phase One if they are adjacent to a property with a known or suspected environmental condition.
What is in a Phase I ESA Report?
A Phase I ESA report contains the following:
Results of Inquiry by an Environmental Professional
Interviews with Past and Present Owners, Operators, and Occupants
Reviews of Historical Sources of Information
Searches for Recorded Environmental Cleanup Liens
Reviews of Federal, State, Tribal, and Local Government Records
Visual Inspections of the Facility and of Adjoining Properties
Commonly known or reasonably ascertainable information about the property.
The degree of obviousness of the presence or likely presence of contamination at the property, and the ability to detect the contamination by appropriate investigation.
How fast can I get a Phase I Environmental Report completed?
InspectorUSA specializes in fast completion of our Phase I Environmental reports. Our typical completion time is 7-14 days. We regularly complete Phase I Environmental reports in less time and a faster project completion can definitely be arranged if needed. Feel free to contact us for an estimated completion time for your property.
We can take care of all your inspection needs!
InspectorUSA is owned and operated by Certified Master Inspector D. Michael Green. He has reached the highest level of inspector certification by InterNACHI, the International Association of Certified Home Inspectors. Michael regularly participates in continuing education to stay abreast of current industry technologies and practices. Mr. Green has been performing both Commercial Property Inspections and Phase I Environmental Assessments for more than 30 years. His credentials include: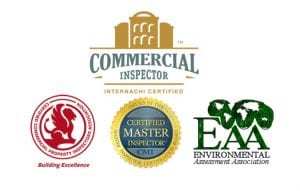 Here are a few examples of buildings InspectorUSA has inspected over the years: