InspectorUSA Inspection Services
General Home Inspection
All of InspectorUSA's inspection services adhere to InterNACHI's Standards of Practice and Code of Ethics. At no additional charge, we will include a Termite/WDI Inspection because we know how vital it is, especially in this area, to inspect for pests that could compromise the structure of the building. All of our inspections our guaranteed and backed by InterNACHI's Buy Back Guarantee, American Home Warranty Company's $2500 90 Day Limited Warranty, and our in-house $1000 Service Guarantee. We inspect these components and systems of the home, when accessible and visible:
Structural integrity
Grading and drainage
Exterior veneer, doors/windows, and trim
Wood decks, porch and exterior stairs
Driveways, walkways, and patios
Roof, gutters, downspouts
Furnaces, A/C units, supply and return temperatures
Plumbing, water heaters, water pressure
Chimneys and fireplaces
Electrical panels, fixtures, and garage doors
Ventilation and insulation
Termite and pest infestations
D. Michael Green is a licensed Pest Control Operator and provides a full line of pest control services through his company InspectorUSA Termite and Pest Control.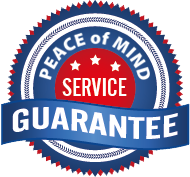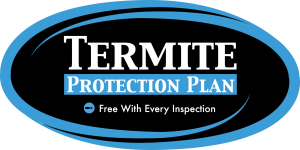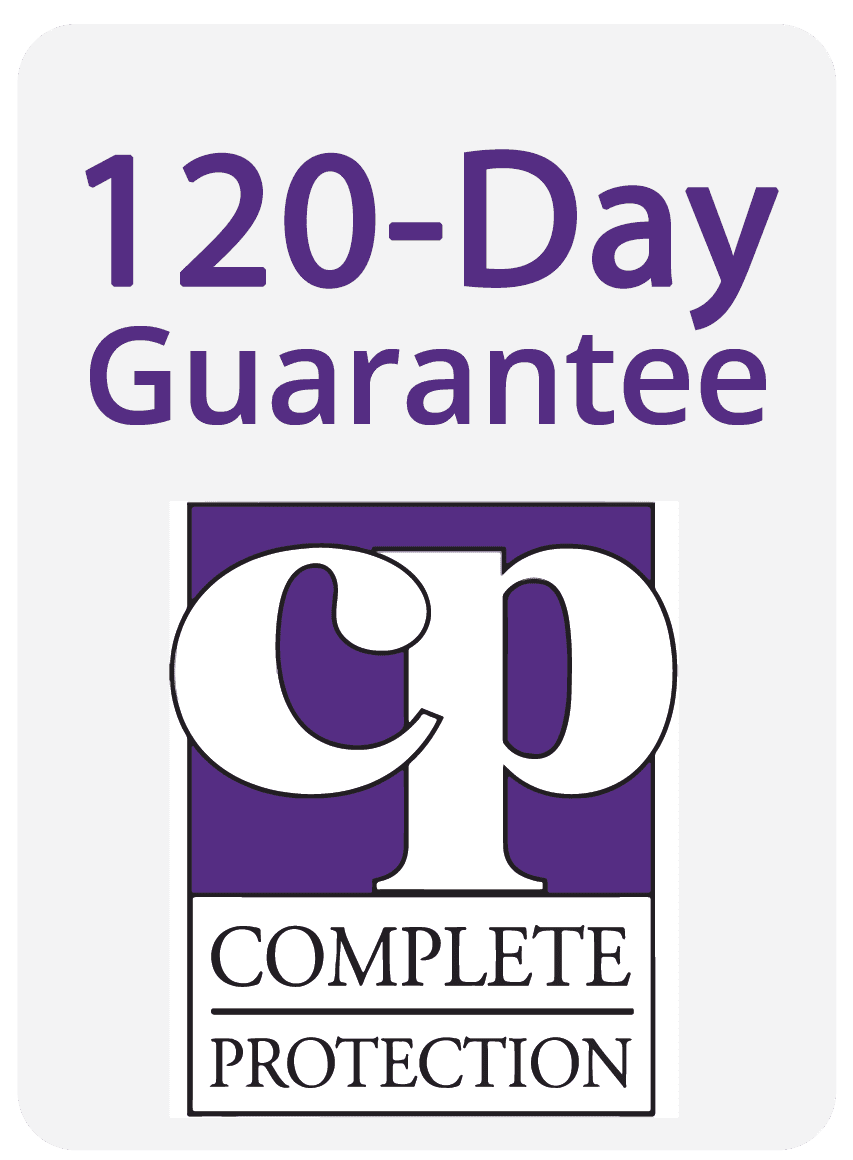 Additional Inspection Services
---

Move In Certified Pre-Listing Inspection
Having a Move In Certified pre-listing inspection conducted prior to putting your home on the real estate market gives you a huge advantage by discovering any issues before the buyer's inspector does. Once you have this knowledge, you can choose whether to repair or replace the deficiency or disclose it to buyer's which will leave less room for them to try negotiating with you.
Have your home Move In Certified
Move In Certified is an inspection service designed specifically to help sell a property and is no different than a buyer's inspection report. Sellers can schedule the inspection at their convenience with little effort on the part of the agent and can assist inspectors during the inspection. Something not normally done during a buyer's inspection. The report helps the seller see their home through the eyes of a critical third party, thus making the seller more realistic about the asking price or make repairs beforehand.
View a Sample Move In Certified Inspection Report
This service includes 120 Day Limited Home Warranty, the InterNACHI Home BuyBack Guarantee, and the InspectorUSA 90 Day $1000 Service Guarantee. This service also includes FREE termite and structural infestation inspections and certifications.
Learn More About Move In Certified Inspections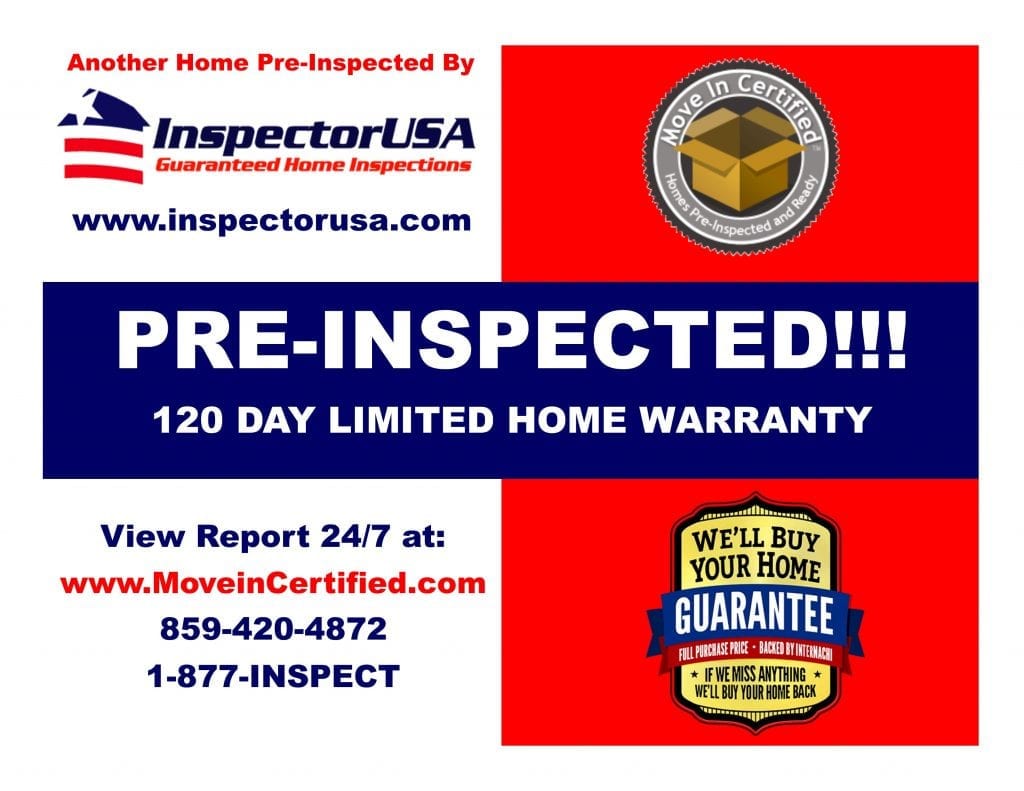 Commercial Building Inspection
We not only inspect residences, we inspect commercial buildings as well. We follow InterNACHI's Standards of Practice for Inspecting Commercial Properties. Our commercial property inspections will enhance your knowledge of the condition of the property to improve decision-making regarding transactions, maintenance, and improvements.

Home Maintenance Inspection
It is advised to have a certified home inspector to perform regular home maintenance inspections so that maintenance necessities don't pass you by resulting in expensive and urgent repairs. We will inspect the elements of your home and advise upon any maintenance they need, as well as offer useful tips.

New Construction Inspection
Nothing is perfect, even new construction! Before moving into a brand new home, bring us in to inspect it while the components are still accessible and not covered up and blocked by your furniture. It is best to address any issues while the home is still brand new, instead of them surfacing down the road and becoming more costly.
Builder's Warranty Inspection
When you buy a newly constructed home, normally the builder will offer a 1 year warranty. If there are any problems, you need to know about them before the year is up for the warranty to cover them, so hire us in the 11th month to conduct a Builder's Warranty Inspection.

Detached Building Inspection
We inspect separate buildings such as detached garages and outbuildings following the InterNACHI Standards of Practice. Add this service on to your Home Inspection.

Rental Property Inspection
As a landlord, it is common to have tenants moving in and out of your properties often. Make sure you know the status of the property from tenant to tenant or else necessary repairs can pass you by and turn into a money-pit.

Loan Draw Inspection
If you are a lender for a construction project, you need to be sure that everything is on the right track and time schedule, and that the work being done is quality before you loan more money. During our loan draw inspections, we will inspect during different phases of the project so that you can stay updated on the progress.

Phase 1 Environmental Assessment
This assessment investigates current and previous uses of a property with a focus on potential soil contamination. We combine a visual inspection with research of public and federal database information and then document the results of the assessment.

Property Condition Assessments
Investing in parcel of multiple properties? We offer Property Condition Assessments for situations exactly like these, when you don't need a full blown inspection on each property, but want a certified professional to conduct a walkthrough on each and provide a summary report of the overall conditions.

Listing Prep
Designed to assist homeowners in preparing their home to go on the market. Benefits include a very affordable full state standard home inspection that is completed by a fully licensed and certified home inspector. You will receive a written report completed and delivered on-site with an on-site inspector consultation. This inspection can help to reveal issues allowing for correction or advance disclosure.

Field Service Inspections
We are members of the Society of Field Inspectors. We provide specialized inspection services for insurance companies, mortgage companies, banks and other organizations that have a vested interest in the condition of the properties they are transacting. Presently we have performed services for companies such as NVMS, M&M Mortgage Services, US-Reports, Inc., JMI Reports, Trinity Field Services, National Insurance Inspections, Sandcastle and others. We provide full inspection reports as required and we can provide inspection and property preservation services as described below:
Residential Inspections Include:
⦁ Occupancy Verification
⦁ Field Chases
⦁ Delinquency Interview
⦁ Foreclosure Inspection
⦁ Bankruptcy Inspection
⦁ Investigative Inspection Report
⦁ Face To Face Interview Report
⦁ Sale Date Inspection
⦁ Insurance Loss Draft Inspections
⦁ Construction Progress Report
⦁ Construction Funding Report
⦁ Flood Hazard Verification
Insurance Inspections Include:
⦁ Dwelling observation inspection
⦁ High value inspection
⦁ Loss control inspections
⦁ Fitness center inspections
Commercial Inspections Include:
⦁ Physical Facilities Inspection
⦁ Merchant Credit Card Account Site Verification
⦁ Retail Outlet Verification
⦁ Coupon Redemption Inspection
⦁ Vehicle Delinquency Inspections
⦁ Classic Vehicle Finance Inspections
⦁ Leased Equipment Inspections
⦁ Environmental Inspections/Assessments
⦁ Loss Control Inspections/Surveys

Septic Inspection
Replacing a septic system is very costly, so it is wise to have it inspected yearly to make sure that any small issues don't go unnoticed and become big, expensive issues. It is recommended to have your septic system inspected yearly.

Mold Inspection
If you have a mold problem, it is important to know about it so  you can take action. It is a serious health hazard to your family, so it's a good idea to have us conduct a mold inspection.

Radon Testing
It is essential to know if there are elevated radon levels in a building by having a radon test. Radon is odorless and invisible but can be very harmful to your health. Fortunately, mitigation measures are available if elevated levels are detected.

Water Testing
You drink the water from your home every day, so it is important to know what that water contains. We will test your drinking water source for contaminants and chemicals so that you can achieve peace of mind about what you are putting in your body.
Contact InspectorUSA today to request one or more of our inspection services, or to discuss your inspection needs!